Hoy mi país, Venezuela, está en los titulares internacionales casi a diario.
El hambre se extiende debido a la escasez y los altos precios, la gente muere por falta de medicinas y los ciudadanos llevan su cotidianidad en un ambiente de muy elevada inseguridad (Caracas está entre las ciudades más peligrosas del mundo).
La gente muestra su molestia en las calles con sangre, sudor y lágrimas, mientras que quienes ejercen el poder ejecutivo se aferran al poder de manera inconstitucional.
Lo que no abundan son explicaciones económicas. ¿Cómo llegó una economía que era pujante hasta 2012 a perder un tercio de su PIB y a incumplir los compromisos de su deuda externa seis años después?
Esta caída vertiginosa ha desencadenado un jaleo internacional, incentivando en 2017 a la inversionista Goldman Sachs a comprar 2,800 miles de millones de dólares en bonos del gobierno ya casi sin liquidez.
La crisis, primera parte
La crisis venezolana es profunda y compleja. De comparaciones, casi no hay. Solo, tal vez, nuestros períodos de guerra del siglo XIX (1830-1935), cuando una seria de dictaduras militares causaron la proliferación del hambre y una inestabilidad política que socavó la confianza dentro y fuera del país.
La crisis actual no empezó entonces, pero tampoco nació durante el llamado "chavismo", como muchos reportajes indican.
En realidad, la gestación de este caos viene desde la década que comenzó en 1970.
Anteriormente nuestro país fue un ejemplo de crecimiento. De 1958 a 1977, impulsado mayormente por la industria petrolera, el Producto Interno Bruto (PIB) por habitante se multiplicó por 2,5 según las cifras del Banco Central de Venezuela.
Teníamos una inflación muy baja, una moneda fuerte, un proceso de urbanizaciónque destacaba mundialmente, el cual comenzó después de la muerte de Juan Vicente Gómez (1935) y que continuó hasta la presidencia de Carlos Andrés Pérez (1974-1979).
Venezuela contaba con una democracia que era un referente para el continente americano.
Pero la parte final de ese proceso fue una ilusión. A mediados de los años 70 la estatización de la actividad petrolera en Venezuela bajo Pérez, develó las debilidades de una economía tan dependente de un solo recurso y, claro, muy mal manejado.
Ya para finales de la década la "ilusión de armonía" se habia desvanecido.
Desde ese momento comienza un largo período de inestabilidad económica. La inflación saltó de 7,2% en 1978 a 81% en 1989, causando una caída significativa del poder de compra de los venezolanos.
Nos tocó sufrir una crisis de deuda externa a comienzos de los 80 y presenciamos un comportamiento volátil de las exportaciones y de las importaciones.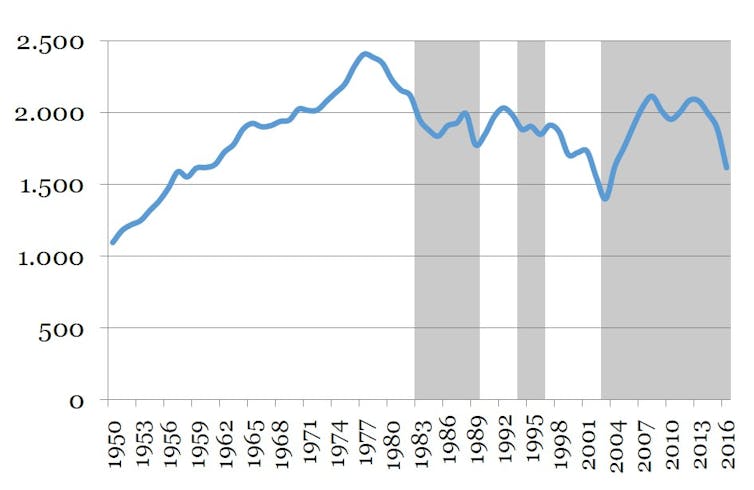 Ante esto, la respuesta de los gobiernos de Luis Herrera Campins y Jaime Lusinchi fue la utilización de controles de precio y de cambio como instrumentos de estabilización, entre los años 1983 y 1988. Sus esfuerzos fueron inútiles.
La debacle económica fue acompañada por una crisis social y política de envergadura, y de la que destacan la protesta caótica del 27 y 28 de febrero de 1989(en la cual entre 300 y 1,000 personas murieron), los golpes de estado de 1992 y la destitución de Carlos Andrés Pérez de su segunda presidencia.
Esta vía de apaciguamiento sociopolítico fue muy criticada, pues el presidente fue sacado del poder justo en el momento en el que realizaba cambios importantes en el sistema político y económico. Como resultado, nunca se hicieron.
La "Venezuela saudita"
Pareciera que la memoria histórica de nuestros habitantes reclamaba los momentos de abundancia vividos a comienzos de los 70. ¿Será que nunca entendimos que eso formaba parte de un consumo ilusorio, imposible y insostenible?
Ese reclamo sociohistórico fue el bastón fundamental utilizado por Hugo Chávez para ganar el voto de 56,2% del pueblo venezolano en 1998. El excomandante llegó al poder con la clara intención de rehacer un país a su medida, apoyado con la promesa de mejorar la situación de los hogares venezolanos reformando estructuralmente al Estado venezolano.
El llamado a la Constituyente de 1999, que dejó como resultado una nueva constitución, era parte de ese proyecto, como también lo era la toma del principal generador de divisas del país: Petróleos de Venezuela, S.A.
Ante el avance voraz de Chávez se levantaron continuas protestas. Y, en abril de 2002, el alzamiento de un grupo importante de militares de alto rango provocó su salida del poder por un breve período de tiempo.
En 2003 un paro empresarial y petrolero terminó en un proceso de diálogo y la realización de un referendum presidencial, el cual ganó fácilmente Hugo Chávez en 2004.
La fortuna del chavismo se extendió con un boom histórico de precios del petróleo, lo que les permitió estabilizarse en el poder a través de una agresiva ayuda social de corte clientelar y conformada en planes denominados "Misiones".
El boom finalizaría en 2014. Pero mientras duraba Hugo Chávez, que tuvo una alta propensión a la emisión de deuda financiera (y bilateral) con los mercados internacionales (especialmente China), ya había llevado la deuda externa de 25,000 mil millones de dólares en 2005 a más de 120,000 millones de dólares en 2006.
El grueso de esos recursos fue utilizado para crear una ola de consumo solo comparable con la de finales de los años 70, en lo que fue catalogado como el período de la "Venezuela saudita".
País inviable
Mientras el socialismo del siglo XXI aparentaba ser exitoso, lo que internamente sucedía, en medio de la borrachera consumista, era algo muy grave: la toma institucional por parte del chavismo.
Personas abiertamente afines al partido de gobierno fueron designados como magistrados, fiscales, e oficiales electorales, contraviniendo lo estipulado en la Constitución de 1999.
Desde 2012, la racha azarosa de fortuna chavista culminó de manera abrupta y estrepitosa. Meses después de su reelección muere Chávez y deja en herencia un sistema que reclamaba más divisas que las que generaba, a pesar de tener precios del petróleo todavía altos, en 100 dólares por barril.
Nicolás Maduro, el sucesor designado del chavismo, gana las elecciones con un margen muy pequeño de 1,5% en abril 2013, jurando al asumir la presidencia de la República"por Cristo redentor, en él y por él, por el pueblo de Venezuela, y la memoria eterna del comandante Supremo Hugo Chávez".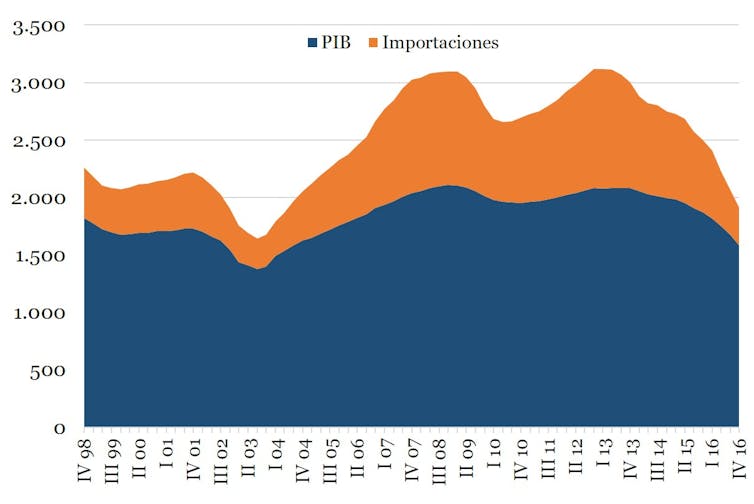 Evidentemente, las carencias del sistema no estaban claras al menos para el 50% del electorado. Pero la realidad no tardó en imponerse: a comienzos de 2014 Venezuela entra en recesión, y esto cuando el precio del petróleo estaba todavía cerca de 100 dólares por barril.
Maduro se mostró incapaz de llevar a cabo las correcciones políticoeconómicas para estabilizar el país. Su inmovilismo provocó una caída de 40% de la oferta global de bienes y servicios per cápita entre 2013 y 2014.
En 2014, el precio internacional del petroleo empezó a desplomarse, de 115 dólares por barril en junio de 2014 a 35 dólares en febrero de 2016. La inflación llegó a 800%.
Las instituciones democráticas, debilitadas por el chavismo, tampoco han podido responder, lo que profundizó nuestros males y nos deja en la situación inviable que se vive hoy.
Después de más de cuatro décadas de sufrir por una economía vertiginosa, los venezolanos ya parecen entender la inoperancia de los sistemas de planificación central y la importancia de transformar las reglas del juego.
El cambio necesario pasa por una reconstrucción económica, el tránsito hacia una economía de mercado, una recomposición del tejido institucional (tanto económico como político).
Para esto se precisará un pacto multisectorial (academia, partidos políticos, sindicatos, iglesias, universidades, empresarios, entre otros) que garantice un mínimo plan común y la armonía social necesaria para desvincularnos de la parálisis económica y desmantelar el "estado patrimonialista" que tanto dolor causó.
Henkel Garcia U does not work for, consult, own shares in or receive funding from any company or organization that would benefit from this article, and has disclosed no relevant affiliations beyond their academic appointment.