Venezuelan Attorney General Tarek Saab announced on June 11 that the government would release more political prisoners, the third such group offered clemency since President Nicolás Maduro won reelection on May 20 in a vote condemned by the international community as fraudulent.
In his first speech after the election, Maduro called the release of 39 political prisoners on June 1 "a sign of our goodwill" and a "move away from hate and intolerance."
By continuing to free its jailed opponents, the regime hopes to "close a cycle of violence and open a new cycle," the attorney general said recently.
As a Venezuelan academic and long-time analyst of my country's politics, I think that's spin. A close look at those released and those now being arrested suggests that Maduro – an authoritarian leader who has used lethal violence against Venezuelan citizens and allowed children to starve on his watch – may now fear a military coup.
The high-profile pardons serve to deflect attention from his regime's crackdown on Venezuela's generals.
Targeting the military
There are at least 340 political prisoners in Venezuela, according to the international nonprofit Human Rights Watch. They include opposition leaders, students, journalists and bankers, among other people deemed threats to Maduro's regime.
Their detentions serve various purposes. Detained CEOs and bankers are blamed for the crippling economic problems that the Venezuelan government cannot solve. Jailing opposition leaders reduces political competition.
Imprisoning students intimidates future young protesters. Arresting journalists silences them and provokes self-censure in those still free.
The Venezuelan human rights group Foro Penal has meticulously documented political imprisonments in Venezuela since 2002. According to Alfredo Romero, the organization's executive director, just 52 of the 79 prisoners released since Maduro's reelection were "true political prisoners." The remainder were mostly common criminals.
The number of Venezuelan political prisoners has actually increased since then. For enemies of this authoritarian state, Romero said, prison is a "revolving door." Some dissidents are released while more are arrested.
Fears of a coup
Military officers seem to be the regime's current target.
Close to 100 have been jailed on conspiracy charges since the beginning of the year. In 2017, by way of contrast, 35 military officers were imprisoned.
Ángel Vivas, a retired general famous for his longtime opposition to the regime, is the only Venezuelan military official released so far in 2018.
Unpopular authoritarian leaders like Maduro depend on military backing to stay in power. Some opposition leaders have called on Venezuelan generals to abandon the regime in favor of restoring democracy.
Maduro has been trying to ensure the loyalty of his generals for years. His Cabinet is filled with active-duty military officials, who've been given control over state-owned companies and offered access to hard cash and government benefits.
But Maduro's government is now deeply indebted. As Venezuela's economy has collapsed, it's gotten harder to buy the loyalty of the generals.
Now, it seems, the regime seeks to deter mutiny by locking up potential troublemakers. The splashy prisoner releases have effectively distracted most media attention away from this crackdown.
Releasing without freeing
By releasing some political prisoners, it would seem, Maduro also hopes to earn back international legitimacy after winning a presidential election widely held to be unconstitutional. Dozens of countries have refused to recognize the results.
The release in late May of Joshua Holt, an American who served two years on charges of weapons possession, is a clear bid to curry favor with the U.S., which hit Venezuela with new economic sanctions after the recent election.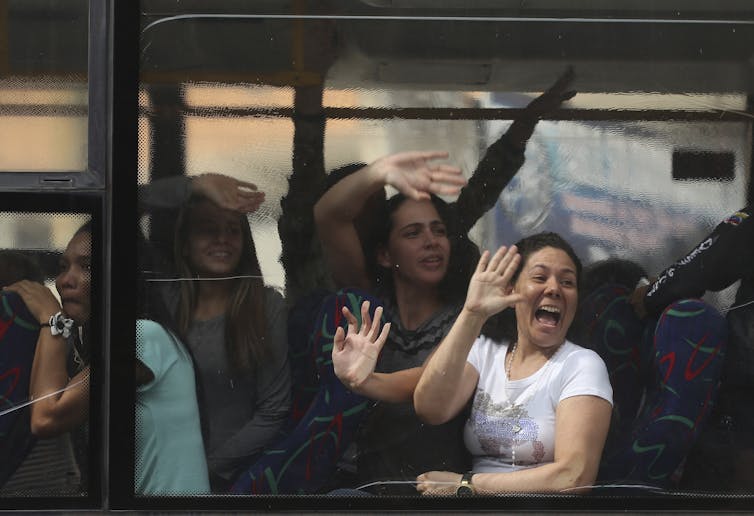 Holt is now back home in Utah. But most freed Venezuelan political prisoners remain under the Maduro regime's control.
The majority of those let out in early June cannot publicly express their political opinions or leave the country. They must also report regularly to court.
Historically, other political prisoners have been granted house arrest. Leopoldo López, the charismatic leader of the opposition Voluntad Popular party, was arrested in 2014 on charges of inciting violence during that year's anti-regime protests. He has been under house arrest since 2017 and was notably not given clemency in Maduro's recent batch of pardons. López is the country's most popular opposition leader. Polls suggest that he would easily defeat Maduro in a free and fair election.
Abusing human rights
Living conditions for Venezuela's political prisoners are extremely poor.
Human Rights Watch has documented the systematic use of brutal treatment, including beatings, death threats and electric-shock torture. A video of two young political prisoners released by Venezuelan authorities on Monday shows alarming signs of malnutrition, if not starvation.
Detainees, both female and male, have reported being sexually abused by police while in custody.
María Lourdes Afiuni, a former judge jailed in 2009 for granting parole to a banker charged with corruption but never tried in court, says she was raped by her jailers. Afiuni was the most prominent political prisoner of the Hugo Chávez era, and her case caused international furor.
American Joshua Holt told NBC's "Today" after his release that he was kept in a cell "no bigger than what a twin bed would be" and that the cell door was covered in plastic to prevent air circulation.
"It was super, super hot," he recalled. "So I was literally just lying on the ground just in my underwear and just sweating as cockroaches are crawling all over me. They never took me out to go to the bathroom, so if you had to use the bathroom, you either had a bottle or a newspaper."
Maduro hoped that releasing Venezuelan prisoners would quell unrest at home and earn him plaudits abroad. But such details – coupled with his imprisonment of dozens of military officials – will more likely solidify his reputation as a tyrant.

Marco Aponte-Moreno does not work for, consult, own shares in or receive funding from any company or organization that would benefit from this article, and has disclosed no relevant affiliations beyond their academic appointment.