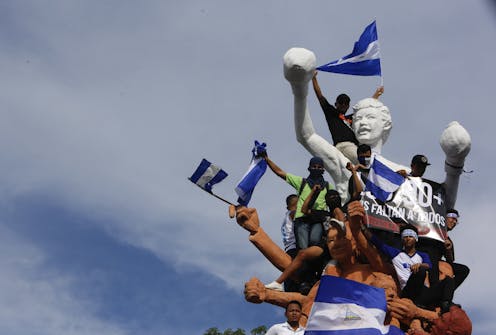 Después de meses de protestas casi constantes en Nicaragua, al menos 300 personas han muerto, incluidos en esta cifra cuatro policías, mil personas resultaron heridas, y el presidente Daniel Ortega —líder autoritario que en su momento parecía invencible— está a punto de perder el poder.
Los ciudadanos salieron a las calles de Managua a principios de abril después de que el gobierno de Ortega tardara en responder a un incendio forestal masivo en Indio Maiz, la segunda reserva natural del país. Cuando el gobierno decidió gravar los impuestos sobre las pensiones de los jubilados e incrementar los costos del seguro de los empleadores, una semana después, a lo largo de esa nación las marchas de protesta se fortalecieron.
Pronto la policía pronto comenzó a asesinar a los manifestantes. Y lo que había comenzado en forma de manifestaciones organizadas, se transformó rápidamente en un movimiento. El objetivo: desplazar al presidente Daniel Ortega y a su familia del poder.
Nicaragua vs. Goliat
¿Acaso puede Nicaragua el segundo país más pobre de América Latina, derrocar a su poderoso régimen con la sola negativa de salir de las calles? La historia de ese país así lo sugiere.
Soy un académico especializado en América Latina, asentado en Managua, Nicaragua, hasta que la violencia me obligó a evacuar.
Mi análisis sobre el terreno indica que los presidentes de esta región que se enfrentan a protestas masivas son derrocados con mucha más frecuencia de lo que se podría imaginar.
La mayoría de los líderes electos en América Latina, una región muy democrática, arriban al término de su mandato. De acuerdo con Christopher Martinez, profesor de ciencias políticas en la Universidad Católica de Temuco, en Chile, solo el 16 por ciento de los presidentes sudamericanos han renunciado o han sido imputados desde 1979.
Sin embargo, esto cambia cuando los líderes se ganan la ira de sus ciudadanos. Entre 1985 y 2011, el 70 por ciento de los líderes sudamericanos que enfrentaron protestas callejeras masivas fueron destituidos de sus funciones.
Los manifestantes nicaragüenses se enfrentan a un genuino Goliat en Daniel Ortega. En el único país, después de Cuba, que orquestó una revolución armada exitosa en América Latina, Ortega —ex guerrillero del frente sandinista que derrocó en Nicaragua al dictador Anastasio Somoza en 1979— es un coloso.
Ortega ha sido la persona más poderosa en Nicaragua por casi 40 años y presidente por 16 de esos años. Mientras no estuvo en funciones presidenciales, de 1990 a 2006, Ortega tuvo control del país de forma efectiva como poderoso delegado sandinista en la Asamblea Nacional.
Aun cuando los sandinistas eran minoría, Ortega lograba detener al país organizando protestas masivas, como lo hizo en innumerables ocasiones entre 1990 y 2006. Y no cabe la menor duda de que esta ironía no escapará a los actuales manifestantes en contra de Ortega.
Pero, tal como asegura Malcolm Gladwell en su último libro "David y Goliat: Desvalidos, inadaptados y el arte de luchar contra gigantes (edición en español)", "Los gigantes no son exactamente como creemos. Las mismas cualidades que parecen darles fuerza son a menudo la fuente de su inmensa debilidad".
Es decir, los dictadores no son derribados, sino que tropiezan por sus propios pies. En el caso de Ortega, su mayor fortaleza —su gran audacia— ahora ha fomentado una peligrosa autocomplacencia.
Cómo derrocar a un dictador
La académica Kathryn Hochstetler, especialista en América Latina ofrece una fórmula básica para predecir si los presidentes latinoamericanos caerán en medio de una protesta masiva.
"Si los manifestantes callejeros cuentan con el apoyo de la legislatura, pero no hay una sangrienta represión —dice ella—, las probabilidades de que un presidente permanezca son altas". Así es como el ex presidente nicaragüense Enrique Bolaños, que gobernó Nicaragua de 2002 a 2007, logró mantenerse en su cargo a pesar de las reclamaciones de los manifestantes para que renunciara.
Cuando los líderes optan por usar la fuerza contra manifestantes pacíficos, entran en un camino peligroso, según todo parece indicar. Desde principios de la década de 1990, casi todos los presidentes latinoamericanos que llegaron al poder a través de elecciones libres y justas, pero que luego utilizaron la violencia para sofocar levantamientos callejeros, fueron derrocados muy pronto.
La excepción es Venezuela. El presidente Hugo Chávez estuvo en el poder durante 11 años, aún después de utilizar la fuerza letal contra los manifestantes durante un intento de golpe de Estado en 2002.
Su sucesor, Nicolás Maduro, ha permanecido en el cargo a pesar de que asesinaron a 163 manifestantes en el 2017, aunque opino que cuando Maduro llegó al poder Venezuela ya no era una verdadera democracia.
¡Que se vayan los dictadores!
En una región con una historia de violentos dictadores, la represión del estado provoca la ira de los ciudadanos.
Nicaragua ha sufrido un gran conflicto político. En 1979, los rebeldes sandinistas protagonizaron una insurrección de siete años para liberar al país del gobierno militar. A continuación, se produjo una guerra civil de 11 años entre el gobierno sandinista y los Contras respaldados por Estados Unidos.
Está claro que en este momneto hay poca tolerancia lo que provoca más derramamiento de sangre. Es probable que la determinación de los manifestantes se haya endurecido por el hecho de que la mayoría de los muertos son jóvenes estudiantes.
Aislado por décadas de poder, Ortega parece haber subestimado el grado en que la violencia y la represión del estado reuniría facciones que él había dividido tan hábilmente por tanto tiempo. Actualmente, estudiantes, grupos de derechos humanos, el sector empresarial y la Iglesia Católica se han unido para alcanzar un objetivo: destituir al presidente.
El ejército ha dicho públicamente que no abandonará el cuartel para reprimir a los ciudadanos. Si los generales mantienen su palabra, creo que los días de Ortega están contados.
Una caída rápida del poder
El colapso de Ortega ha sido vertiginoso.
En el 27 aniversario de la Revolución Sandinista, en 2006, Ortega cabalgó un caballo blanco entre multitudes frenéticas en la Plaza de La Paz, en el centro de Managua. Más tarde, ese mismo año, sería reelegido como presidente de Nicaragua.
En los años siguientes, el gobierno comenzó a colocar innumerables pancartas y carteles con la imagen de Ortega a lo largo del país. El presidente centralizó el poder en la rama ejecutiva, tomó el control de la Asamblea Nacional y la Corte Suprema de Nicaragua, abolió los límites de mandato, y en 2017, nombró a su esposa como vicepresidenta de Nicaragua.
Ortega fue reelegido en el 2016 para su tercer mandato con el 72 por ciento de los votos. Pero solo el 30 por ciento de la población de Nicaragua votó en las elecciones presidenciales de ese año, y los partidos de la oposición alegaron que hubo fraude.
Tal vez su legitimidad ya estaba en duda en aquel momento. Ahora, el colapso de Ortega parece tan inevitable como lo fue su ascenso al poder.

Benjamin Waddel no trabaja para ninguna compañía u organización que se beneficie de este artículo; tampoco consulta ni posee acciones ni recibe fondos por este concepto; ni ha divulgado afiliaciones relevantes más allá de su posición académica.
This is the default profile for Liberty Buzz. We strive to publish articles that are related to Liberty. We republish articles (with permission) that pertain to our subject matter. Liberty Buzz tries to be consistent with news that affects you and your sovereignty.